"Haversack Cleanser" – 1940
manufactured by Capoline Co. Windsor, Ontario

Photo: Geoff Robinson

Photo: Geoff Robinson

Photo: Geoff Robinson
Contents described as being mustard/tan in colour.
[divider] Cleanser, Haversack Respirator, Anti-Gas Web Equipment, Mark II
Dark Brown
The Capo Polishes Limited, Hamilton, Canada – 1945

Photo: David Pratt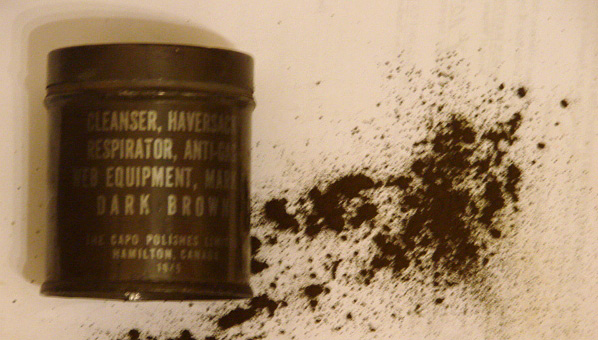 Photo: Geoff Robinson
Contents are dark brown/green in colour.
[divider] British Military · For Web Equipment
CAPO Khaki Cleanser
The Capo Polishes Limited, Hamilton, Canada
(Package design doesn't use the registered CAPO trademark for some reason)

Photo: David Pratt

Photo: Geoff Robinson
[divider] More information on the company can be found here: Capo Polishes Ltd
and their polishes here: Capo polishes
and their dubbins here: Capo dubbin
[divider] Further information written by 'pumpkin2up' on WW2 Reenactors US forum http://ww2reenactors.proboards.com/index.cgi?board=infantry2&action=display&thread=19847&page=8
Draw your own conclusions but the 3rd Canadian Div had coloured their webbing BEFORE D-Day and it was a dark green colour. The HLI of Canada used vehicle paint (that came from the word of a veteran and was verified by a copy of unit orders dated May 1944.) The Royal Winnipeg Rifles of Canada used KG 03 blanco on their gear as early as Nov 1943… once again from unit orders from D Coy. Although, they never used the word "Blanco" the orders stated the webbing would be colored dark khaki green. Webbing that is in the RWR museum that was used on D-day is what I would call KG-03 or dark green… also it is next to an assault jerkin (most of the RWR leading companies were issued it for the assault but then they were withdrawn a few days after the invasion and re-issued their dark webbing).