A facsimile of Propert's Web Cleaner is supplied by Tommy's Pack Fillers.
This wrapper uses the font Gill Sans which wasn't a commercially available font until 1936 and so gives some idea of the period of the product (although it is possible the product had been available earlier in different packaging). There are no clues as to this block's colour but given the directions it is clearly a solid block not a crème or liquid.
This product was available in 1943 and was on the list of approved products in the 1943 Home Guard regulations when KG3 was universally adopted as the only official equipment cleaner colour.
Here is "Propert's Green Renovator or military belts, gaiters, straps etc". The date of this product is uncertain but the 'green' is 97 equivalent, the other two shades are listed as Khaki (presumably 103 equivalent) and Air Force Blue.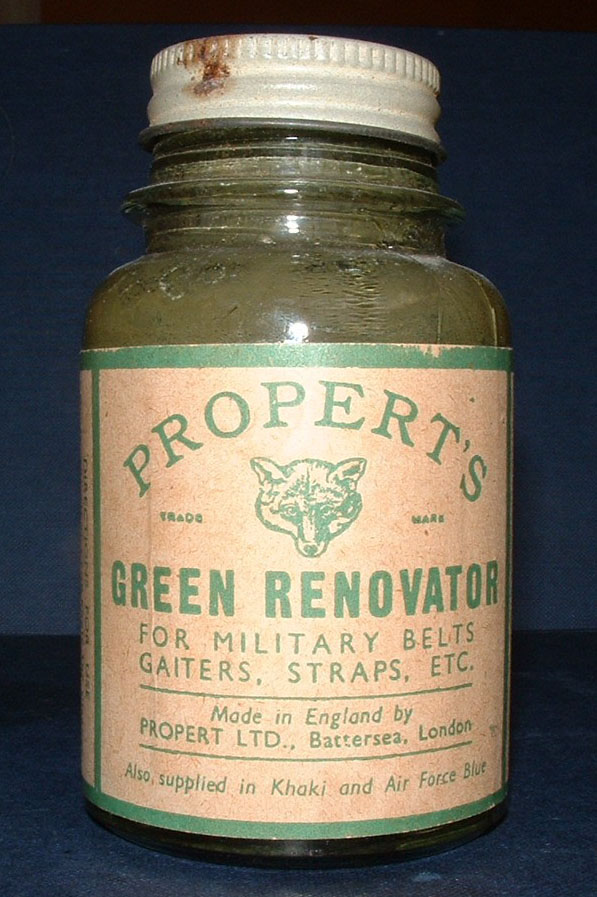 Photo: Allen Prior
Photo: Sophie Penny
This khaki bottle lists alternative colours as green, air force blue, sun, tan, grey and white so clearly sold to civilian as well as military markets. This example dates from no earlier than 1936 and Propert web renovators were available in WW2 and used alongside that traditional Pickering's Blanco wetted blocks.