This advert from July 1900 declares the new Blanco colour meeting "the want of the day". Since the advert and product pre-date the introduction (or indeed the entertainment of the idea of) of canvas webbing it does show a move away from highly visible white accessories of uniforms to something more toned down. This, then, makes the choice of colour of the new 1908 webbing canvas all the more obvious (for it could, of course, have been made any colour). The advert gives the manufacturer name of Joseph Pickering and Sons, omitting the "Ltd" so the ad must have been prepared prior to the formation of the Limited Company in that same year.
Advert text
Pickering's
"Khaki-Blanco"
For Cleaning and Renovating "Khaki" Accoutrements, Helmets, Shoes, &c.
Everybody knows the merits of Pickering's Blanco for whitening all articles of Buckskin Leather, or White Canvas, and now Pickering's have met the want of the day by introducing "Khaki-Blanco," a similar preparation to Blanco, but of a "Khaki" colour; it is prepared in a most careful manner to ensure an Evenness of Colour, and contains nothing at all injurious to any "Khaki" article to which it may be applied. "Khaki" cleaned regularly with this article keeps a good colour, and always looks like new.
White Belts and other military equipment, buckskin and canvas shoes, &c., can be made khaki colour by the application of "Khaki-Blanco," and this will be in no-wise interfere with their being re-whitened with Blanco at any future time.
Sold by all the usual dealers.
Sole Manufacturers: Joseph Pickering & Sons, Sheffield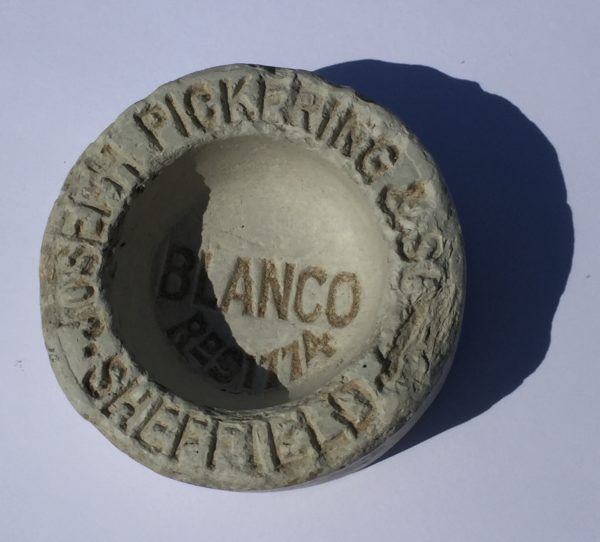 Photo: David Askett

Photo: David Askett
This block of Blanco is presumed to be very early, following the 100/101/102 white version. It has some crudity about it but crucially carries the imprint of 'Blanco Reg 1744' in the bowl that isn't seen on the later products (although the wrappers and adverts often show it the illustration). The presumption is that this part of the moulding process was omitted for simplicity.