The Joseph Pickering & Sons story
In 1824 John Needham (born 1773) produced a polishing paste for the burgeoning cutlery and Sheffield Plate industries from his home and premises in Harvest Lane. As the business built up he was joined by his niece, Harriet Needham (born 1829), who assisted him. He seems to have moved about as trade directories list his address as 50 Harvest Lane in 1833 and 120 Harvest Lane in 1841.
Joseph Pickering, the son of a silversmith and a young apprentice of James Dixon & Son (Cornish Place, Sheffield – premises still extant but converted to apartments) lived in nearby Fitzalan Street, Bridgehouse, Sheffield (Fitzalan Street now lost to new development but was in the area of Derek Dooley Way). He often collected polishing paste from Needham's on his way to work and this is where he met young Harriet and a romance blossomed. After completing his articles in 1847 Joseph married Harriet. John Needham had died the year earlier (aged 73) so Harriet and Joseph had been running the business themselves.
Changing the business name to 'Joseph Pickering (late John Needham)' and they had moved further up the road to 128 Harvest Lane by 1849 and then to their 'Polish Works' just around the corner at 32 (possibly 22) Mowbray Street (no longer extant) where they also owned nine houses.

This 1864 advert for Joseph Pickering (successor to the late J. Needham) shows products "Needham's Celebrated Polishing Paste" and "Joseph Pickering's Celebrated Furniture Polish" as well as listing Razor Paste and Plate Powder. It indicates Pickerings products were distributed all over the UK.
Expanding the business and adding new products by 1860 Joseph had a small workforce and had also begun a family. As a principal in the Parkwood Springs Land Society he built a house in Vale Road (no houses extant today). He was a churchwarden at St Michael & All Saints Church, Ball Street and was later a Councillor for the Sharrow Ward after he bought a house there. Prospect Road adjacent to Vale Road was later renamed Pickering Road in honour of the Councillor.
Despite flood damage in the Sheffield Flood of 1864 (for which the company lost 10 days business and was awarded compensation of £45 in June 1865) the business flourished and outgrew its premises again. Joseph, who by now had three sons working with him, renamed the company Joseph Pickering and Sons and moved to a new 'Polish Works' in Burton Road in 1875 (still extant but now a small business centre). It is believed that the Mowbray Street works (now known as the 'Blanco Works') remained in Pickering's ownership at least until 1895, but were rented out (advert in the Sheffield and Rotherham Independent, 11 March 1879: To Be Let, Warehouse and Work Rooms, 22 Mowbray Street, recently occupied by Joseph Picckering and Sons – Apply Albyn Works, Burton Street.). As a caring employer, not unusual in these times, he provided housing in Percy Street, let to his workers at special rents, and a sickness and benefit club (none still extant) for his workforce, which had grown to over 100.

Photos: David Pratt, Dec 2010. – Polish Works (later renamed Albyn Works), Burton Road, Sheffield

Now Joseph Pickering & Sons, this 1876 advert show Harness Blacking in addition to Polishing Paste, Knife Powder, Furniture Polish, Plate Powder and Razor Paste.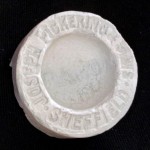 By 1871 the Pickerings have a family home 87 Pomona Street, Sheffield (not extant). Joseph's son John Needham Pickering developed new products for the family company which by 1880 including the famous 'Blanco' – a pure white compressed block product that could, by the addition of a little water, be applied to soldier's leather-work with a sponge, rag or brush. They sold it to the local Hillsborough barracks who adopted his product and their extra white webbing was admired and led to it's adoption by the rest of the army – see below for an 1888 advert that shows sales at every Canteen Richard Dickson & Company as sole agents for the British Army with depots in London, Dover, Chatham, Dublin and Calais. The specially developed a registered design of cup-shaped blocks supplied with a zinc box were also being marketed to the public as early as 1888 as a whitening for cricket shoes and gloves as well as tennis shoes and balls. The cost was 6d for the initial block in a tin and 1d for refill blocks A new single storey extension was built to accommodate the manufacture of the successful Blanco product. The Polish Works was renamed 'Albyn Works' (from the Latin Albus – White).

July 7, 1888 – The Graphic
Joseph Pickering and his son Joseph seem to have a well developed entrepreneurial spirit and coincident with this they together ran a Lime and Brick Merchant business that had premises in Shireoaks, Nottinghamshire; Holloway, Middlesex and Newgate Street, London. This business partnership was dissolved in 1883 leaving the son to carry on the business himself.
Gazette Issue 25190 published on the 19 January 1883
NOTICE is hereby given, that the Partnership heretofore subsisting in the business of Lime and Brick Merchants, between the undersigned, Joseph Pickering the elder, of Albyn Works, Burton-road, Sheffield, in the county of York, Polish Manufacturer, and his son, the undersigned Joseph Pickering the younger, and carried on in the name Joseph Pickering, at Shireoaks, in the county of Nottingham, and heretofore at Clarence Yard, Holloway, in the county of Middlesex, but more recently at 123 and 124, Newgate-street, in the city of London, and also having the head office of the said business at Albyn Works aforesaid, has been dissolved, by mutual consent, as from the 31st day of December, 1882, since which date the said Lime and Brick business has been carried on by the said Joseph Pickering the younger on his own account, and the same will continue to be carried on by him at Shireoaks and at Newgate-street, London, in the same name as heretofore, and he will receive and discharge all moneys due and owing in respect of the said business.—Dated this 15th day of January, 1883.
Joseph Pickering, sen.
Joseph Pickering, jun
The packaging needs of the factory were met by Arthur Truelove, a tin plate and cardboard box merchant based in Moore Street. Arthur married Joseph's daughter Mary and Arthur's elder brother Isaac Truelove married Joseph's sister Hannah. These close family and business ties led to the merger of the two companies in 1900 to form Joseph Pickering & Sons, Limited. The company, number 68068, had a capital of £30,000 in £50 shares to buy the businesses of Joseph Pickering and Sons of Albyn Works, Burton Road, Sheffield and elsewhere and A. Truelove of Moor Street and Young Street, Sheffield. The firm was to carry on the business of manufacturers of and dealers in furniture polish, polishing paste, knife and plate powder, harness blacking, Brunswick black, brass and German silver rivets and castings, tinplate boxes and canisters, pattern and sale cards, cardboard boxes etc. Shareholders, all from Sheffield, were J. Pickering (polish manufacturer), Crescent Road; Mrs L Pickering, Montgomery Road; JF Pickering (polish manufacturer), Priory Road; Mrs AM Pickering, Priory Road; A Truelove (brass founder), Wostenholm Road; Mrs MM Truelove, Wostenholm Road; WB Esam (solicitor), Bank Street. The three directors were Joseph Pickering (chairman), Arthur Truelove and Joseph F Pickering. Arthur Truelove was a Councillor and later Alderman of Sheffield. He built two hostels which gave clean and cheap accommodation for men working in the town. Joseph Picking was to die in 1902 at the age of 76, just three weeks after retiring from the company on the grounds of failing health.
The packaging side for the business was a great success and in 1906 a new factory was built in Moore Street for the production of cartons. Designed by city architect CM Hadfield the splendid fireproof concrete and steel flat roofed factory was faced with ornate terracotta. Now a listed façade, it fronts a stylish modern office block.

Photo: David Pratt, 2010 – Joseph Pickering & Sons Ltd packaging works, Moore St, Sheffield
In 1900 or earlier the military made a concious decision to move away from whitened leather equipment to khaki coloured, to which Joseph Pickerings obliged with a khaki shade of the now-familiar white Blanco and named it, imaginatively, "Khaki-Blanco".
The new-fangled P08 cotton canvas webbing, developed by the Mills Equipment Co. Ltd. for the British Army, came pre-dyed in a suitable khaki shade and so was self-coloured. However, the webbing as supplied came in various shades of 'khaki' as dying production methods didn't allow close colour matching. And of course the webbing became dirty and scruffy in use. Khaki-Blanco came to rescue as it's application restored newness and also gave a perfectly uniform colour, no matter what the various underlying colour of the canvas.
To this was added a second colour, "Web-Blanco" which was a more green khaki, giving a contrast between then khaki uniform and the blancoed webbing. By 1910 they were selling many shades of Blanco to the domestic market the world over. Sports canvas shoes needed whitening, ladies and gents summer canvas shoes required smartening up with shades of buff and more extravagant colours. The Great War saw a big increase in the production of the military shades of course and after the war the company turned its attention back to the domestic market. Then came WWII and production increased to meet the demands of the military again. Five principal shades were used, the RAF having one of their own too. Demand was high post-war too with must of National Service time seemingly being spent blancoing webbing. In 1954 the company developed a new tinned paste product, doing away with the messy wetted compressed dry block, and a new new chapter opened.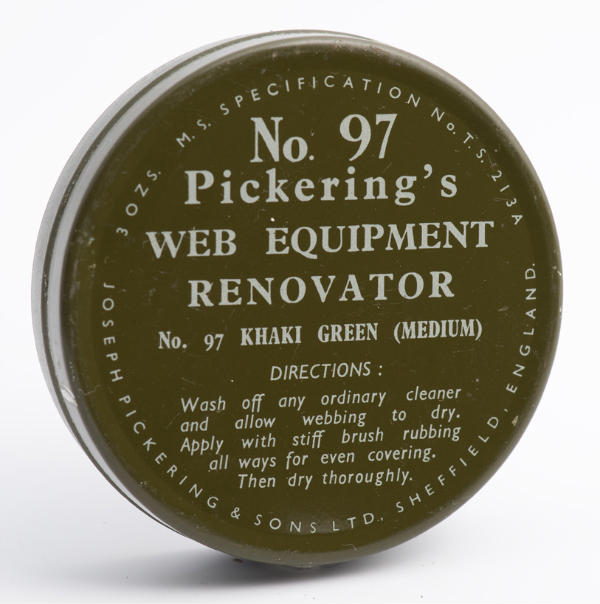 For three quarters of a century, 'Blanco' was the company's major product, sold to the Military in over sixty countries. However, with the end of conscription production of Blanco and the later Pickering's web cleaners declined and sales of other polishing products fell away as Sheffield began to lose its industry of silverware, cutlery and knife-making. In the 1980s the cardboard box business become the company's lifeline.
Both the Burton Road and Moore Street factory sites were sold and carton production switched to more modern new premises in Little London Road. In the process all equipment used for the manufacturing of web cleaners was left behind.
In 2005 the shareholding of the company was widely spread around the Pickering family, many of the shareholders being over 70 years old. The family members unanimously decided they wanted to pursue other interests and chose to sell the business. It had a turnover of £3m and employed around 70 people in the design and manufacture of cases, cartons, flatpacks and corrugated boxes for a wide range of industries including healthcare, food and various manufacturing sectors.
The company was bought by Robin Batchelor in a typically modern arrangement funded by a business finance deal and a £150,000 regional development loan, with hopes to take the company forward with plans for growth. Instead the company's decline was rapid. With large loans to repay, cash loaned against invoices and bad debts the burden lead to strangled cash flow and creditors unpaid.
With £1.2 million debts the company ceased trading on 30th January 2009, 40 employees were made redundant and the company's administrators set about selling off the assets.
The company had been witness to the reigns of eight monarchs. It had survived two World Wars, the Wall Street Crash, the three-day week of 1974, and the dark days of the recessions of 1980 and 1992. But now, after 185 years trading, Joseph Pickering and Sons Limited of Sheffield, had gone bust – another victim of the credit crunch sweeping Britain. And in many ways typical of the rise and fall of successful, self-funded, family run Victorian industries who fall foul of the high debt, complex business models of modern times.

Photo: David Pratt – Pickering's Little London Road works up for sale, 2010.
In the High Court of Justice, Chancery Division – Leeds District Registry No 168 of 2009
JOSEPH PICKERING & SONS LIMITED (Company Number 00068068)
Nature of Business: Manufacturing.
Registered Office of Company: KPMG LLP, 1 The Embankment, Neville Street, Leeds LS1 4DW.
Date of Appointment: 30 January 2009.
Joint Administrators' Names and Address: Mark Granville Firmin and Howard Smith (IP Nos 9284 and 9341), both of KPMG LLP, 1 The Embankment, Neville Street, Leeds LS1 4DW.

Written by David Pratt
White Blanco photo by StigRoadie
Kingfield Road photos by Google Street
Reference:
"Blanco – made in Sheffield" Burngreave Messenger
"Family Agrees To Management Buy-In" Manufacturing Talk
"£150,000 loan" South Yorkshire Investment Fund
"Historic Sheffield firm forced to pack up after 185 years" The Star
"Joseph Pickering brought down by debts" Packaging News
"Sheffield Flood claim" Sheffield Flood Claims Archive