William Edward Wren was born in 1844 in Merton, Surrey and was married to Wiltshire born Sarah. The 1891 census lists William Wren as a Heel Ball maker at 31 Greyfriars Street, Northampton along wife Sarah and their five children: daughter Mary C. E. aged 19, a boot machinist, born in Camberwell Surrey; son William E. aged 10, born in Camberwell Surrey; daughter Edith A. aged 8, born in Camberwell Surrey; son Thomas D, aged 5, born in Northampton; Jenny aged 3, also born in Northampton. They also had an eighteen year old employee lodging with them, Huntingdon born Martha Chambers, who was an assistant in the boot shop. This indicates they moved to Northampton in 1885 or earlier.
The 1901 census lists the family have moved out from 'above the shop' to a large terraced house at 26 Margaret Street (possibly just built and is still extant) just three streets away from the works, the other side of the prison. It has William E Wren described as Wax Refiner (Grease) employer, his wife still alive at the age of 51, their 29 year old daughter Mary as a nurse, 20 year old son William as an Imperial Yeoman, and Edith, Thomas and Jenny still at home. Greyfriars Street ran south off Lady's Lane, opposite Newland and Victoria Street, and now vanished under a large car park and bus station. As a note, the address was written on Wren's early 20th century tins as 31 Grey Friars Street, not 31 Greyfriars Street. Contemporary records from 1891 to 1907 show the various spellings as well and in the London Gazette of 1878 as 31, Grey Friars-street.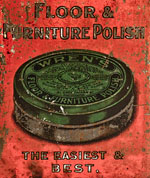 There is mention of William Wren in a Land Registry document relating the The Grosvenor office block and shopping centre development, off Greyfriars, owned by Northampton Borough Council. The date of the conveyance is 1900 and since Wren had previously been in occupation it might be presumed he was buying previously rented premises. The present road Greyfriars sweeping east-west cuts across the end of the old Greyfriars Street, so we might presume number 31 was at the south end of Greyfriars Street.
All advertising states 'made in England since 1889'. The company name appears as William Wren & Co. in the very early years, then Wm. Wren & Co Ltd (certainly in 1918) and later, when the move to the Blyth & Platt works in Watford took place, William Wren & Co (Watford) Limited and at some point before 1942 Wm. Wren Limited (possibly just a convenient contraction. In 1918 William Wren & Co's address is given as William Wren & Co, 31 Grey Friars Street, Northampton. Quartermaster records of the 1st/5th Battalion, King's Own Royal Lancaster Regiment in 1918 show saddle and harness paste being ordered from William Wren & Co at 31 Greyfriars Street.
In 1928 William Wren & Co Ltd had three business addresses, all very close to one another: 31 Greyfriars Street, 6 Albert Street and Bull Head Lane. Bull Head Lane is now lost and is covered by part of the new extended Lady's Lane, west of the end of Sheep Street. Albert Street was next and parallel to Greyfriars Street, opposite Victoria Street on the other side of Lady's Street – and also under the bus station. Apart from boot polish and dubbin Wren's made, in the early years at least, Saddle & Harness paste and Floor & Furniture polish, Metal Polish, Puwite shoe whitener and of course the famous Lavendo furniture polish.
However, in 1938 Wren's were acquired by Chiswick Products Ltd following an earlier acquisition of Meltonian (E. Brown & Son) Limited. The products never seem to have had manufacturing transferred to Chiswick or later to Reckitt's in Hull but at some point between 1938 and 1942 manufacturing is moved from Northampton to Blyth & Platt's 'Solar Works' plant on Greatham Road, New Bushey, Watford. The factory was known as the Cobra factory, naturally enough as the Cobra product had been made there since at least 1912.
It seems that the parent company of Chiswick Products Ltd (from 1954 Reckitt & Colman Holdings Ltd) kept the companies of Blyth & Platt Ltd (Cobra brand), William Wren Limited (Wren's brand) operating and manufacturing from the same Watford plant on Greatham Road. However, the Meltonian product range made by Meltonian (E. Brown & Son) Limited continued to be made at the Oxgate Lane, Cricklewood factory until at least 1957. Meltonian (E. Brown & Son) Limited became Meltonian Limited and then combined with William Wren Limited to form Meltonian Wren Limited, and continued as Meltonian Wren Limited, certainly until 1964.
When the Watford 'Cobra' works was shut down the manufacture of Meltonian/Wren products was transferred to Reckitt's site at Hull. In the very late 1980s an attempt was made to revive the Wren/Meltonian brands but in 1991 the Meltonian and Wren brand names were bought by Sara Lee along with Reckitt's entire UK shoe care product portfolio. In 2011 SC Johnson acquired Sare Lee's shoe care business, presumably along with the trading and non-trading brand names.

1908 advert
Photo: www.oldshopstuff.com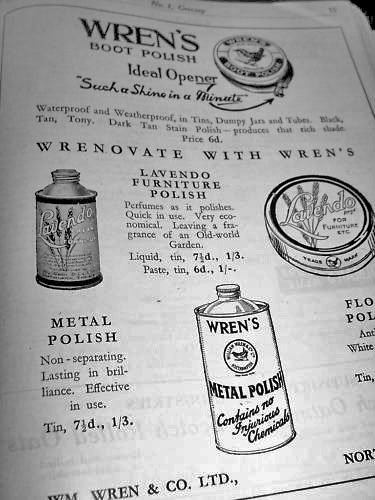 1931 advert
This pink, purple and cream 92mm diameter tin of Wren's Lavendo Furniture Polish with a butterfly twist opener is distinctly different to that illustrated in the 1931 advert and dates from after the move to Watford somewhere between 1938 & 1942. The purple contents, although shrunken, are still softish and waxy (no doubt helped by the foil seal extolling Wren's shoe polish – best for shine, best for shoes) and smells very strongly of lavender still!
On the label
Wren's Lavendo Furniture Polish – perfumed with lavender
Wren's Lavendo Polishes beautifully – Lavendo – Lavender perfumed – Made in England by Wm Wren Ltd, Watford
Embossed on reverse
Made in England
Lavendo is made by the manufacturers of Wren's Super Wax Shoe Polish
Pat No 7'1014
Photo: David Pratt
1942 advert
Wm Wren Ltd's trade mark of 1942
This registered design of 1951 was registered to Wm Wren Limited of Solar Works, Watford, Hertfordshire.