The old Swift Dubbin was manufactured by The Swift Polish & Blacking Manufacturing and their address then was in Houndslow, the TW3 district of London. Nothing much is known about the Swift Polish & Blacking Co as they were but they became Kirkwood, Craig & Co Ltd, a sister company of A. Wilme Collier Ltd who had been making adhesive pastes at the 8th Avenue Works, Manor Park, London E12 since 1907. They later became Associated Adhesives Limited some time between 1960 and 1967. The later Swift "Floor & Furniture Polish" tins state they were made by Kirkwood, Craig & Co Ltd, London E.12 and Fairlop, Essex.
Kirkwood, Craig & Co Ltd took part in the British Industries Fair in 1922 as "Manufacturers of Glues, Paste Powders and various adhesives for use by Printing, Bookbinding, Woodworking, and numerous other trades." They are listed in a trade book as manufacturers of wallpaper remover in 1956-57 and a product called Adwata that was a cellulose wallpaper adhesive in 1958-59. Kirkwood's products also included Tapwat wallpaper paste, Fill-A-Crak crack filler and Sugar Soap.
A. Wilme Collier Ltd were also a listed exhibitor at the British Industries Fair in 1922. Their entry was given as "Manufacturers of Pastes, Photo Mountants, Vegetable Glues, and various Adhesives for re-sale by Stationery and Allied Trades". A. Wilme Collier Ltd made the "Gloy" adhesive paste, a trade name dating back to before 1930 as well as "Dex" photo mountant (a paste specially prepared for photographic purposes) and "Gluak"' a stiff vegetable glue for book-binding, cardboard modelling, etc. The vegetable glues were Dextrines derived from starch, mainly used in water solution as adhesives for paper. They have good tack and are fast setting but have low bond strength (adequate for paper) and are susceptible to microbial attack.
In 1939 A. Wilme Collier Ltd held the freehold on 8th Avenue Works, Manor Park, Essex and land in Forest Road, Barkingside, Ilford, Essex. Kenneth Henry Harrison (1914-63 ) took a post in 1947 as production manager and chemist to A. Wilme Collier Ltd and its associated company, Kirkwood, Craig & Co. Ltd, leaving in 1954.
In 1967 Associated Adhesives Limited were listed as makers of synthetic and rubber adhesives in a 1967 issue of Flight International, with an address of Knights Road, Silvertown, London E16 (an industrial development on the former Albert Docks). One of their products was Dek Epoxy. However, there were planning applications made for the 8th Avenue Works in 1971 so clearly they had two factories.
A. Wilme Collier Limited and Kirkwood Craig Co are now dormant companies owned by Unilever. The "Gloy" trademark had been sold to Henkel Kommanditgesellschaft Auf Aktien but the product is no longer on the market.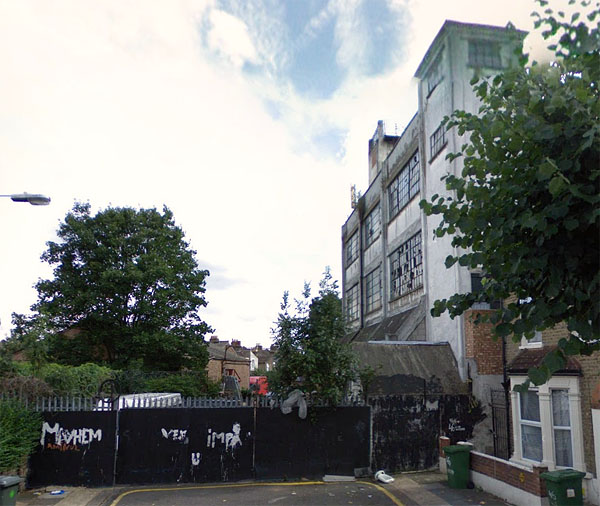 How the 8th Avenue Works looks today


A 1957 advertisement for Tapwata, made certainly until 1960.

On the label

"Swift" Dubbin
(picture of the swift trade mark)
Unrivalled for waterproofing, softening and preserving boots, shoes and leather goods of all kinds.
The Swift Polish & Blacking Manufacturing- Hounslow, England
Brown

Photo: David Pratt
On the label

The Swift Floor & Furniture Polish
For cleaning, polishing and preserving floors, linoleum, furniture &c.
Size C
Kirkwood, Craig & Co Ltd, London E.12 and Fairlop, Essex.

Photo: David Pratt
This 105mm diameter tin is printed in green, white and silver. The polish itself is still very soft and a lurid orange colour.
From Yvonne Beecham
My father, William Beecham (born 1919), worked at the 8th Avenue works all his working life and I remember going every Saturday to meet him. He worked with the glues and was there from about 1934 to probably 1970's, when it was passed on to Unilver and then to another firm when he was made redundant. He was a foreman and was in charge of the big steam drums that made Tapwata – the liquid glue was rolled on to huge steam drums and ended up as flakes. His brother worked on the boilers to make the steam. There were 3 activities in the factory as I remember: glue, polish and brush making. Women were employed in the office and to make the brushes.
The factory still looks like the picture on your website. I have recently donated the 1948 celebratory book about the Collier's factory's centenary to Redbridge Library and I still have a number of posters relating to Swift manufacturing where the factory won prizes at the Turin exhibition in 1911.
Certificates of the awards from the Turin International Exhibition 1911 given to Swift Manufacturing Co. Hounslow. There are 4 Diplomas all four are awards in different categories: Gruppo X111 Classe 75 – Diploma Silver Medal, Gruppo XL Classe 59 – Diploma Silver Medal, Gruppo V11 Classe 38 – Diploma Silver Medal, Gruppo V111 Classe 43 & 44 – Diploma Bronze Medal.
There are 2 Certificates of Award, both Silver Medals, from the Board of Trade to The 'Swift' Manufacturing Co: Group13 Class 75, Group 26 Class 165, 166 & 167. These are signed by the President of the Board of Trade.

Photos: Yvonne Beecham