In 1904 the company moved from Eccles to Broadheath, occupying a former iron foundry premises on Bridgewater Road, backing onto the canal.
The company, run by Mr Squire Lord, made a range of leather dyes, dressings and finishes for the shoe trade as well as household polishes. Known locally as the old blacking works, the premises later also contained an associated company, Lord Brothers Ltd run by sons William and Harry Lord, that made the tins for the Radium products as well as for other manufacturers. By 1936 Radium were making all manner of cleaning and polishing products for floors, furniture, silver, fire grates as well as boots and the Lord brother's side of the business were busy with eight machine sets each turning out between 12 and 15,000 tins a day.
By 1960 the two businesses had 250 employees, had expanded the factory five times and now covered three acres, nine times the original size.
Squire Lord was still around in 1932, attending the funeral of a former Altringham mayor in his capacity as a burgess of the Altringham Court Leet.
The Times newspaper has a death notice for Harry Lord who died on 3rd November 1983, formerly of "Lord Brothers, Broadheath and Radium Dyes Ltd".


The site today, polish and tin manufacture long gone, but much of the premises intact complete with arched iron windows, and now divided into a complex of smaller business units, sensibly under the name of 'Radium House Commercial Units'.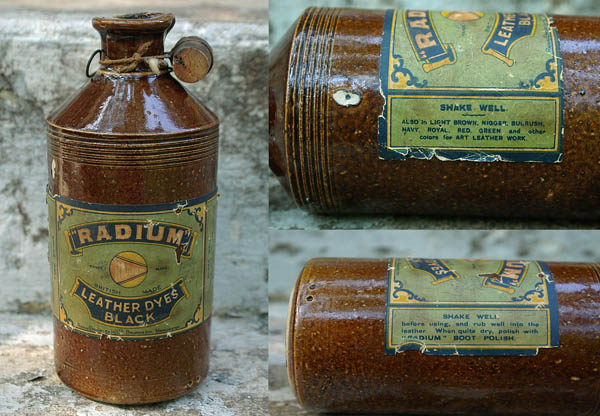 Photos: Lorraine Burns
This large (a little over 7.5 inches tall and just under 3.5 inches in diameter) and heavy stoneware pottery bottle contains the dried out remains (you can still smell it) of "Radium" leather dye in black. It includes a spare cork and a wire dauber (whose woollen end has mostly fallen off) for applying the dye. The dye was sold in at least seven other colours.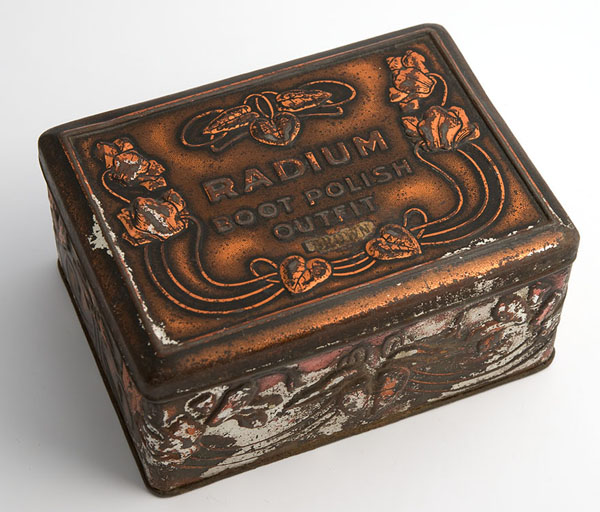 Photo: David Pratt
An example of Lord Brother's handiwork – a Radium boot polish outfit tin.

Photo: David Pratt

Photo: David Pratt