Wren's Polishing Outfit, complete with marked brush and velvet buffing pad, was sold after 1908 and when Wren's were still manufacturing in Northampton.
It features their "Such a shine in a minute" motto as well as the intriguing "First in the Field – First Award Leather Trades Exhibition 1892". It is curious why polish and other manufacturers referred back to awards twenty or thirty years earlier but I guess times changed slower then, certainly packaging fashion was very slow changing back then. However, the Leather Trades Exhibition held in the centre of Britain's boot making industry Northampton in these times were clearly of importance to the trade. And the 'first in the field'? If Wren's are referring to tinned polish paste then this comfortably pre-dates Cherry Blossom by eleven years.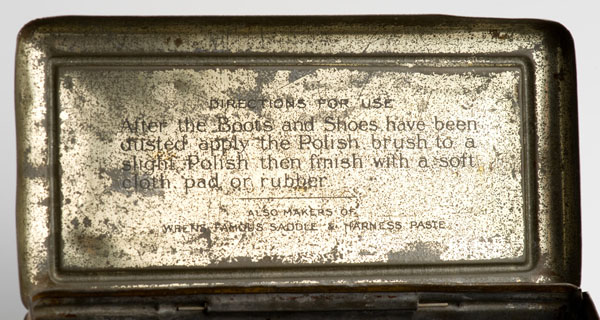 Photo: David Pratt
Lennards Cleaning Outfit from Lennards Limited "Britains best bootmaker" with 250 branches in London and the provinces. It proudly displays an Award of Merit medal from the Centenial International Exhibition held in Australia in 1889.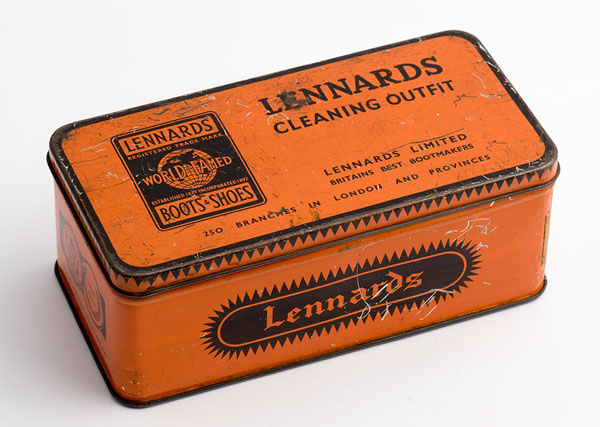 Photo: David Pratt
Co-operative Wholesale Society Ltd Pelaw polish outfit tins. The larger, printed in black and yellow on a silver ground, has contents of a tin of Pelaw polish, brush and velvet pad – the smaller tin, printed in brown and black on a silver ground, substitutes a polishing cloth for the velvet pad. Otherwise they are similar design and bear the Pelaw spade, scythe and wheatsheaf logo with the motto "Labour and wait". Also referenced is a gold medal award at the Imperial International Exhibition held at Shepherds Bush, London in 1909, a gold medal award at the Japan-British Exhibition in 1910 and gold and silver medals at the Milan Exhibition 1906.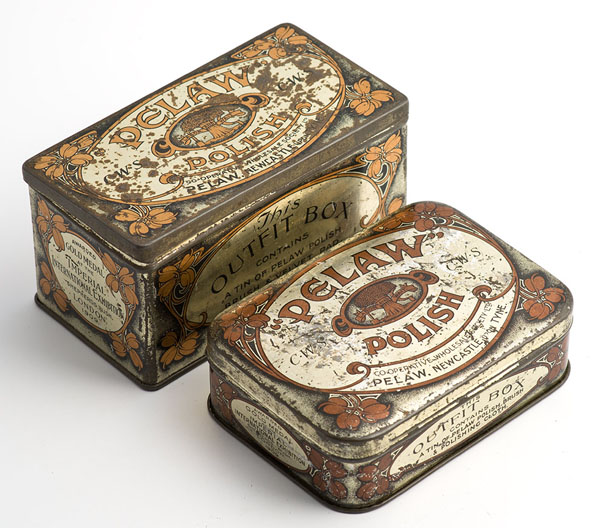 Photo: David Pratt
A Nugget shoe polishing outfit. Simply printed in black on yellow ground, this plain and unadorned tin carries no other information other than that on the lid and facing side. The polishing cloth however is rather more attractive.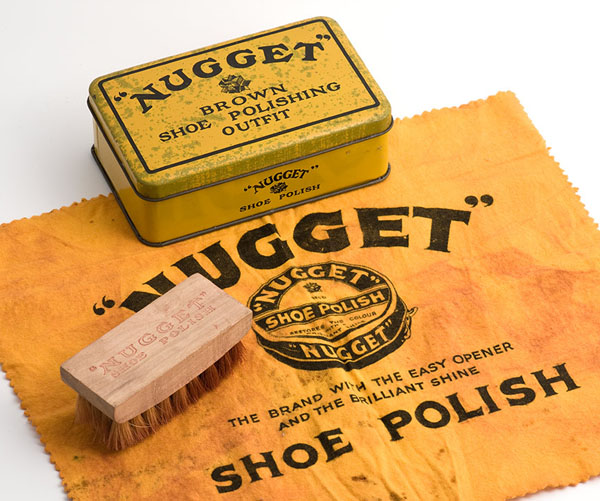 Photo: David Pratt
This plain Chelsea black boot polish outfit printed in black on gold also makes no attempt at puff or building up the product image. It carries no manufacturer or contents information either.
Photo: David Pratt
Brown, black and gold printed tin adorned with King George V coat of arms (reign 6 May 1910 – 20 January 1936) announcing 'By Royal appointment'. The rear carries the somewhat obligatory awards and medals: Sheffield 1899, Newcastle 1899, White City Imperial International 1909, Japan British 1910, Argentine Hygienic Exhibition 1910 and Manchester 1899. The inside of the lid, printed in black on gilt, is a line drawing of the splendid Borough Road works of Day & Martin Limited built in 1889 and vacated somewhere around 1925.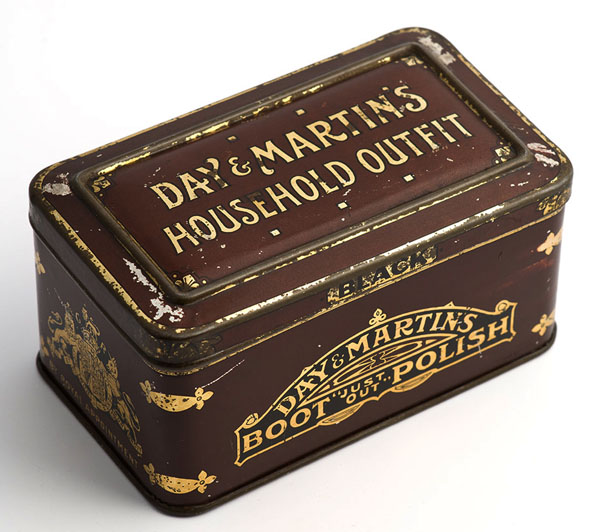 Photo: David Pratt
Green and metallic copper printed 'arts & crafts' style decorated outfit tin. Very little text on the outside of the tin other than "Cobra" THE Boot Polish. The inside of the lid, printed in black on gilt has a bit more information. "Cobra" registered trade mark. Polishes & dressings manufactured only by Blyth & Platt Ltd, Watford, England. Unsurpassable for BOOTS, SHOES, SADDLES, HARNESS, and LEATHER GOODS of all kinds. Unaffected by weather, resist adhesion of mud and dirt, do not "mark" or become dulled by use and preserve the surfaces of the articles on which they are applied.
Photo: David Pratt
A Radium boot polish outfit tin, printed in black on a copper ground, manufactured by the sister company of Radium (Broadheath) Ltd – Lord Brothers Ltd.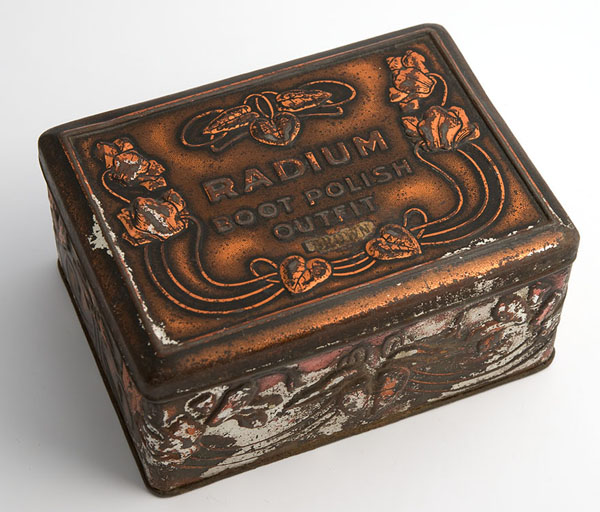 Photo: David Pratt
Unused compact travelling shoe-shine kit with a pair of small 9cm long brushes, yellow duster polishing cloth and 2 inch tins 17ml of Day & Martin black and brown wax shoe polishes (of Great Dunmow factory vintage, so dating to between 1961 and 1989). Not a prestige product – the case isn't leather but some composite imitation and the 'pure bristle' brushes are made in China. Incidentally, the brown polish has shrunk considerably showing that the proportion of volatile components to solids of shoe polish are something like two thirds to one third.
Photo: David Pratt