"As white as the Everlasting Snows" proclaims the black and green print box, in English. Although the jar inside has instructions for use in French and Dutch.
Photos: David Pratt
Made by the Nugget Polish Co. (Sales) Ltd, London – a product very similar to the original Pickering's Blanco and products made by Cherry Blossom, Meltonian and Wren's.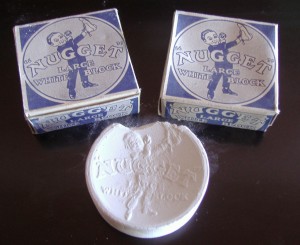 Images by 'GliderRider' on the Dutch reenactment forum:
http://www.re-enactmentforum.nl/forum/aangeboden-f5-britse-witte-blanco-nugget-t3891.html
A de-luxe nugget white dressing was available in tins complete with sponge, for buckskin and canvas boots and shoes, belts, helmets etc.
Nugget were boot polish manufacturers and a well established brand in the early 1900's. They use the strap line of 'As used in the Royal Households' – not quite a Royal Warrant though! The range included Black and Tan Tiger brand boot polishes but also a bottled liquid boot whitening for leather/canvas boots and sports shoes.
The brand name is still use across the world although not the original company but by a process of takeovers and acquisitions.