On the label
Meltonian Waterproof Dubbin
For golf shoes, shooting & fishing boots etc
Made by Meltonian Ltd., London makers of Meltonian Cream
Photo: David Pratt
This 80mm x 25mm green, black and gold tin of dubbin still has its contents – a dark grease now somewhat crystalline.
On the label
"Militol"
For waterproofing, softening and preserving all kinds of leather, boots & shoes etc.
For Golf Shoes – can be applied while shoes are still wet.
For Army boots, golf boots, shooting boots, fishing boots & walking boots.
Directions: After removing dirt, apply evenly all over the surface of the boot and rub well into the welt and soles with an old boot brush. This will render the boot thoroughly pliable and waterproof.
Made only by Meltonian Ltd. Meltonian works, Cricklewood, London N.W.2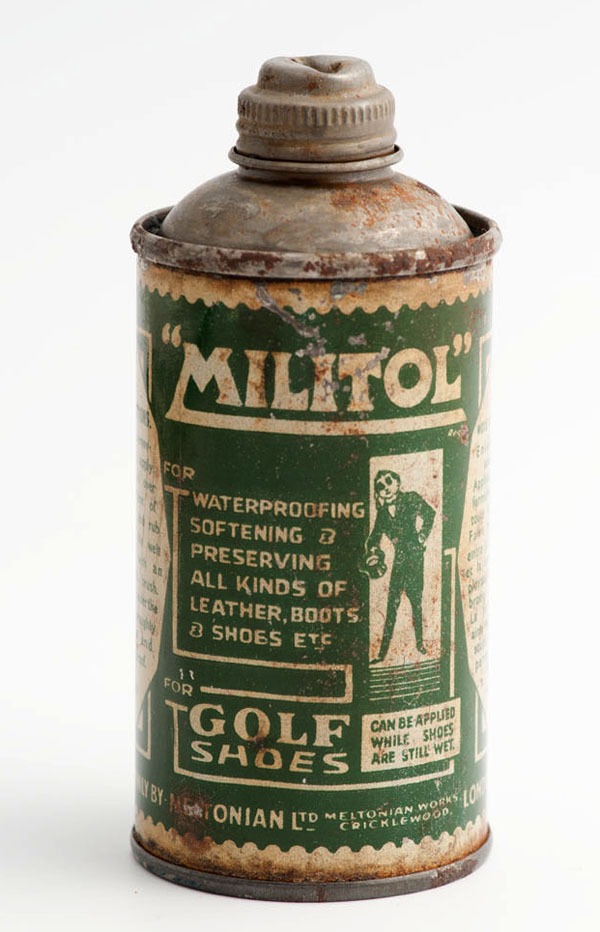 Photo: David Pratt
This 10cm high tin is printed in green on a cream ground. Curiously, the base of the tin shows the unmistakable printing of Bluebell metal polish. This re-use of scrap tin plate has been noted a few times on this website, the assumption is that this is of WWII vintage when materials were scarce and nothing could to to waste.