This advertising tin for William Wren & Co was a container for string. The string passed through a hole in the lid and was severed by a cutter on the lid (now gone).
WILLIAM WREN & Co Wax Polishes Manufacturers NORTHAMPTON and EARLS BARTON. Depots LONDON, MANCHESTER, and PARIS
The sides of the tin depict Puwite Cream in tins and bottles, Boot and Shoe polish "Such a shine in a minute", Wren's Floor and Furniture polish "The easiest and best" and Polishing Outfits in black and brown.
Since the illustration shows a boot polish tin of a design before 1931 and the company doesn't have Limited status (that appears as early as 1918) and the address as 31 Greyfriars Street, Northampton which was in use from 1891 or before, the date could be between 1891 to 1918. Advertising in 1908 for William Wren's brown and black waterproof polish used the strap line "Such a shine in a minute" – so not reasonably, it could be said the tin dates from this time.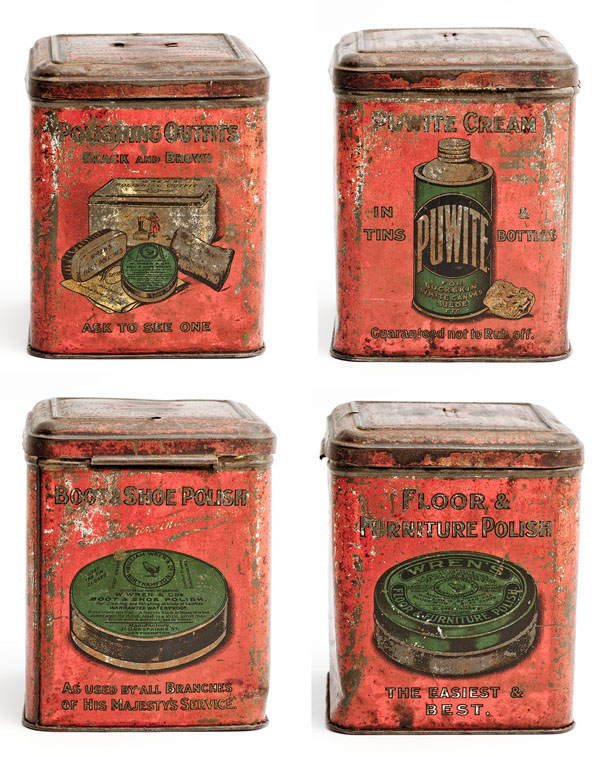 Photos: David Pratt
This useful sized 170x150x90mm storage tin was a giveaway promoting the hugely successful Public Benefit Boot Company.
Photo: David Pratt
Photo: David Pratt